You weren't put on this earth to simply break-even..
You're here to break rules, to break records, to break through

Meet Lee Anne Haggard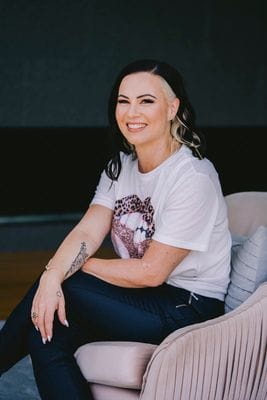 I am 44 years old and live on the beautiful Gold Coast, Australia with my 2 beautiful girls and Husband Simon.
I have been a successful business owner for the past 20+ years, 10 of those in the Design & Website Industry.
I have a huge passion for helping others.
I had been looking for a way to take my current business to the next level. So I started attending a lot of Networking events with motivational speakers - my favourite being Kurek Ashley (his book is a must read), started religiously writing my personal and business goals down daily, creating vision boards and overall changing mine and my teams attitudes. These things have really changed the way I look at life.
For those of you who have watched "The Secret", you would know about the law of attraction: "What you think about, you bring about" - thoughts become things!! This for me has really improved my life, my teams life and my families life beyond reality.
So this brings me to why I decided to become part of this fantastic Home Business over 14 years ago. The whole philosophy behind the fantastic products the company has available has brought such personal and financial wealth to my family and so many people around me, I just couldn't pass up this opportunity.
The whole idea is to use the products, develop yourself personally and the financial wealth comes as a natural progression.
This business is built on a well established support network - we all work in a team of successful business owners who are here to help you succeed. The great thing about this is that we all come from such varied backgrounds and expertise.
I have since sold my traditional business of 10 years and am now working this business solely. I have since turned my past yearly income into my monthly income and then some. This business has truly change my life and my families life in everyway. Not only financially, but personally health wise, fitness and vitality.
I am very excited to announce the following achievements in my business
Global Top Income Earner 2015 - 2019
Awarded $100k Month Club Sept 2013
Awarded $50k Month Club Sept 2012
Constant Motion Award Winner August 2011
RISING STAR Award Winner August 2010
So grateful to be part of this awesome business.

I would really love to chat with you, or anyone you know who is looking for an easy Home Based Business solution, not a get rich quick scheme. It is a Real Home Based Business. All you need is a computer, Internet, a phone and a few hours to spare each day.
We are looking for a person with personality, desire and passion to work in our team, helping themselves and others achieve Personal and Financial Freedom & Wealth!
If this sounds like you, please call me on 0414 307 057 (Int +61 414 307 057), or use the quick contact form on the left, and I will personally call you back within 48 hours!
Remember life is what you make it, it is possible to live your dreams. So start today in making your dreams reality.